Are you looking for ways to save money for your business? Outsourcing your accounting and bookkeeping services to India may be the answer. By taking advantage of Accounting outsourcing services India and Bookkeeping outsourcing services India, you can free up valuable resources and save money. In this blog post, we'll explore how virtual or online accounting and bookkeeping can save you money.
1) Lower Operating Costs
When running a successful business, the cost of operations is an important factor to consider. One way to reduce those costs is to outsource your accounting and bookkeeping services. By outsourcing accounting and bookkeeping to a reliable provider like Valuecent, you can save money and have peace of mind knowing your finances are in good hands.
Outsourcing accounting services to India provides businesses with access to top-notch professionals without the overhead of hiring them in-house. Plus, they'll have the knowledge and expertise to help you make informed financial decisions. With Valuecent, you can outsource QuickBooks bookkeeping services and CPA bookkeeping services, so you're sure to get the best advice from experienced professionals.
Additionally, outsourcing your accounting and bookkeeping can help you save money in the long run. Because you're paying for professional services on an as-needed basis, you won't need to invest in expensive office supplies or software. And since these services are typically outsourced, you won't be spending money on payroll taxes and other costs associated with having an in-house staff.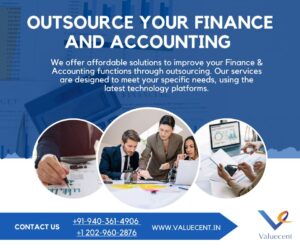 2) Increased Efficiency
Outsourcing your accounting and bookkeeping can provide your business with increased efficiency. By utilizing the services of a professional CPA or outsourcing to a qualified accounting firm in India, you can benefit from their expert knowledge and experience in bookkeeping and accounting. Outsource QuickBooks bookkeeping Services, for example, will save you time and money by managing your accounts more efficiently. As well as cost savings, outsourcing also means that your financial records are managed with the utmost accuracy and quality, which is essential for any successful business. By outsourcing to a specialized accounting firm, you can rest assured that your books are always up-to-date and accurate, meaning your business can be more profitable. With an outsourced accountant, you'll no longer need to spend hours weekly doing calculations and writing reports, freeing up your time to focus on developing your company's revenue streams.
3) Improved Cash Flow Management
Outsourcing your accounting and bookkeeping tasks can greatly improve cash flow management and save money. When you outsource these services, you can free up staff to focus on other important business areas. Outsourcing accounting to India, such as Outsource QuickBooks Bookkeeping Services or CPA Bookkeeping Services, can offer savings of as much as 70% over local services. With these savings, you can ensure that your books are in order while still having money to invest in growing your business. Outsourcing also allows for more efficient management of finances, meaning you get the most bang for your buck. With outsourcing, you'll be able to provide a better quality product at lower prices because you can access professional accountants at affordable rates. And if there's ever an issue with your accounts, Outsourcing accounting India provides 24/7 support so any problems will never come back to haunt you again.
Work With Valuecent For Your Accounting and Bookkeeping Needs
Valuecent is a leading provider of accounting and bookkeeping services with offices across the globe. With over years of experience, their team has mastered the art of meeting client's needs with innovative solutions tailored to suit their individual business needs. They offer a wide range of services, including Xero accounting, accounting outsourcing services, CPA bookkeeping outsourcing services to India, Bookkeeping outsourcing services India and much more. Their team of experts will get you back on track by streamlining your financial operations and saving you time, effort and money.
Contact Us today for a free consultation of Accounting and Bookkeeping Services!